<!PHP Block to display review !>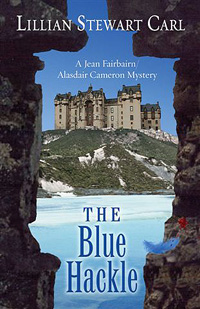 The Blue Hackle: A Jean Fairbairn/Alasdair Cameron Mystery by Lillian Stewart Carl
Review by Gayle Surrette
Five Star Hardcover ISBN/ITEM#: 9781594149221
Date: November 17, 2010

Links: Author's Website / Show Official Info /

The Blue Hackle by Lillian Stewart Carl is the most recent book in the Jean Fairbairn and Alasdair Cameron mysteries.

Jean and Alasdair are getting married. The date is set. Guests are invited. The venue is Dunasheen Manor, which is owned by a friend of Alasdair, Fergus MacDonald. Fergus and his daughter are doing everything they can to make the estate pay for its upkeep and the newest income stream is to use it as a B&B. Thus, Jean will do an article for the magazine as partial payment for the use for their wedding and Fergus gets publicity. At least that was the plan, until one of the guests turns up dead.

I've enjoyed this series so far and The Blue Hackle is the best so far. Jean and Alasdair are a more mature couple. They've each been burned in past relationships and are set in their ways. Over the course of the series, they've learned to trust each other and to work out a series of compromises that work for them. Jean is a freelance journalist and history buff who enjoys her work. Alasdair is a retired police investigator who now works in security for historic sites. His contribution to Fergus is free consulting on security for the estate and grounds.

The local police force hasn't had a murder in many years, the chief is away, and only a new-ish officer is available to take charge. Alasdair and even Jean must offer their assistance with caution, especially when the nearest murder investigators appear -- and they all know Alasdair.

As you'd expect there's a great sense of place, in this case, the Isle of Skye. The people are definitely individuals -- there are no interchangeable characters as filler. Carl manages to bring all her characters to life, so much so that it's easy to get lost in this book -- pulling on sweaters and drinking tea by the gallon to stay warm with that harsh cold wind coming across the water -- until you remember you're sitting in your chair in a home with central heating.

This mystery has enough false leads and misdirection to make it nearly impossible to guess the killer prior to the reveal. However, once it all comes out -- it's easy to go back and see the clues scattered about the narrative. Normally, I can figure out mysteries quite early, so it is a joy to find books where I can't guess until nearly the last page.

If you're yearning for a bit of armchair sightseeing along with your mystery, with a good dollop of history thrown in, get yourself a copy of The Blue Hackle. If you enjoy it as much as I did, you can then read the earlier works since each one can stand alone.

Besides, there's nothing like a good Christmas mystery to take the edge of the hectic holiday season.
---