<!PHP Block to display review !>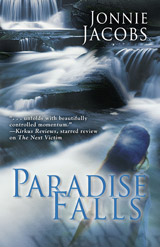 Paradise Falls by Jonnie Jacobs
Review by Mel Jacob
Five Star Hardcover ISBN/ITEM#: 9781594153785
Date: 07 March 2012 List Price $25.95 Amazon US / Amazon UK

Links: Author's Website / Show Official Info /



Another missing child mystery from Five Star, but in Paradise Falls the kidnapping ends in murder. It begins in the fall with one missing teen and then six month later another follows. The police detective Rayna Goodwin's own daughter had been kidnapped and killed four years ago and she is desperate to prevent more deaths, but clues are lacking. Then the police chief calls in the FBI over her objection and the agent sent is an old flame.

The latest missing teen comes from a blended family. Her mother, Grace, idolizes her daughter and is distraught. The strains on the family grow as the girl remains missing. She had recently broken off with her boyfriend.

When Grace suspects her young stepson, it tears the family apart. Pictures of Caitlin in the shower and a necklace of hers found in the stepson's other home fuel suspicions and the police seek to arrest him. His father is torn between his love for his son and the evidence.

Rayna suspects there is more to Caitlin's relationship with her boyfriend than he admits. Grace insists Caitlin broke off the relationship, but the boy denies that. The boyfriend hides behind his father and the father's lawyer about his relationship with Caitlin and the fight his friend Rob had with her.

When Rayna finds small stuffed animals left for her, she is mystified. However, their appearance coincides with finding the bodies of the slain teens. The backpacks of the first two girls are found in dumpsters at a mall, but not the same one. Both are found with money and credit cards intact. Grace also finds a webcam sent to Caitlin, and Rayna finds an iPad in her locker. Grace insists Caitlin never had one.

The novel is loaded with anguish on the part of Grace and Rayna and later Carl, Grace's husband. In addition to her grief and frustration, Rayna also has to deal with the FBI agent, a nosy reporter, and her empty life. Her partner, Hank, tries to set her up with a friend of his.

The exciting climax places Rayna and latest victim in extreme danger. The ending will leave some stunned by the unexpected twist. The killer's identity will not be a complete surprise for astute readers.

While novel is part police procedural, it is more the story of two woman and their relationships. Jacobs explores how the crimes affect them and those who love them. A number of inconsistencies never explained may raise questions with some readers. Others will find the emotional story overrides all else. Some occasional cussing appears, but overall the language is tame. Jacobs has two mystery series: Kali O'Brien and Kate Austen from Kensington.
---